Satisfaction with Services

NC State offers a wide variety of university services to students, including curriculum and instruction, academic advising, campus resources, and extracurricular opportunities. Spring 1997 graduating seniors were asked to assess these services in terms of satisfaction with the quality of services and staff responsiveness.
Survey seniors reported being generally satisfied with the quality of services at NC State. There were very few differences in satisfaction by gender or ethnicity.
Over 3/4 of respondents were moderately or very satisfied with 14 academic areas rated. In particular, they were most pleased with library services and the least content with the adequacy of laboratory and classroom facilities.

Chart 6: Academic Areas

Students were slightly less satisfied with their academic advising experiences.

Although 2/3 of respondents were moderately or very satisfied with their academic advising overall, advisors' abilities in required academic planning was rated best, followed by knowledge of university policies/procedures and advice/discussion of academic matters. Career advising abilities were rated lowest.
Although the majority of students expressed satisfaction with academic advising, 22% of the open-ended comments for improving undergraduate education concerned improving advising. Recommendations included ensuring that academic advisors are trained and can answer students' questions, and stressing that they devote sufficient time to advising.

Several other academic concerns were raised in the open-ended comments. Students recommended improving professors' instructional skills (including spoken English), and encouraged university administration to seriously consider and act on teacher evaluations and make the evaluations available to all students. Finally, although the large majority of responses did not question NC State's dual emphasis on teaching and research, some comments suggested that research was valued more highly that effective classroom instruction.
For those non-academic services rated by most respondents, Registration and Records received the highest satisfaction rating. Females were less satisfied with campus safety than were males, and a handful of students recommended increasing the lighting on campus after dark.
Over half of the 16 non-academic services were not used by at least 20% of the respondents, and among this group, the lowest ratings were received for food service on campus, services for commuter students, and residence halls.
Several students commented that NC State should do a better job of increasing students' awareness of opportunities and services.
Respondents also rated most campus staff as at least moderately responsive to their needs. For those staff rated by more than 50% of the respondents, library staff and campus-sponsored recreational staff received the highest satisfaction ratings.

Link to NC State Tables
Link to Detailed Satisfaction Report
Campus Climate


NC State's 1997 Graduating Senior Survey asked respondents to describe the campus climate in terms of their ratings of the discriminatory or supportive nature of NC State's campus. A majority of respondents said they had never experienced discrimination while on NC State's campus on the basis of race, gender, age, religion, sexual orientation, physical disabilities, or other disabilities. However, more females than males indicated that they had experienced gender-based discrimination, and more minorities than whites had experienced race-based discrimination.

The campus climate was largely seen as supportive for all sub-groups rated, with the most support for men and the least support for gays and lesbians. In general, African-Americans provided the lowest ratings of campus climate.




Chart 7: Campus Climate Means by Student Group

(1=strongly discriminatory ... 5=strongly supportive)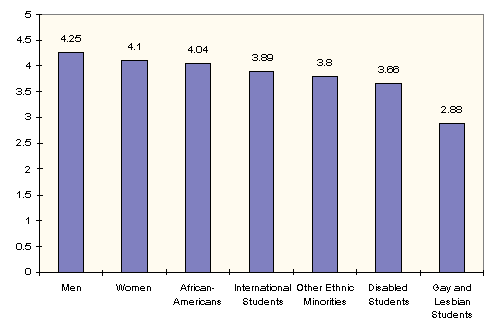 Discrimination and campus climate issues also appeared in responses to the open-ended questions. One student recommended that the university "strive towards making people comfortable about not being a white southern male." Others suggested that NC State "get serious about promoting diversity" and "work to improve the campus climate." Although comments for improving campus climate included various kinds of discrimination, twenty-five comments recommended improving racial relations, and ten comments suggested improving the campus climate for women. However, ten comments indicated a desire to de-emphasize campus diversity issues and instead promote the well-being of all students.
Link to NC State Tables
Link to Detailed Climate Report







Return to top